--
The cliffhanger ended with Ludo gathering evidence to frame Jonathan.
Jonathan's doubts
Henk tries to warn Jonathan about Ludo and dredges up the old story of 'Lord Kingsley at Milton Manor', the precious painting that hung with Saskia and Julian for years but was deviously stolen by Ludo. Jonathan is shocked by the story, even though Henk conveniently ignores his own missteps and far from legal actions.
Henk tells his son what Ludo did to him
Jonathan decides to seek redress from Ludo, who is not frightened by the confrontation. It's a simple matter: he has always had the ownership papers for the canvas in the safe, so there was no legal reason why Henk or the Verduyn family should have been allowed to sell the painting.
Ludo tells his side of the story
Jonathan wants to know his opinion, so he asks everyone involved. Rik, Nina, Merel and Julian tell him in scents and colors the long-winded story about the argument between Henk and Ludo about the painting. Jonathan listens to it all with increasing amazement.
©Screenshot RTL 4
Jonathan listens to Lord Kingsley's story
But ultimately he can draw one conclusion, which he also communicates to Henk: he is not taking sides, but legally speaking, Ludo is fully within his rights and he sees no reason not to work for him anymore. Henk doesn't like it: Jonathan could have sided with his family.
©Screenshot RTL 4
Jonathan is honest with Henk
Bing keeps going
Bing's paranoid fears about the drug operation in Boks take on worrying proportions. He has nightmares in which criminals threaten him, every bag he sees is suspicious and he even buys a sturdy baseball bat for defense.
©Screenshot RTL 4
Bing is taking extreme measures
Luuk doesn't know what he hears when he happens to speak to Bing in De Koning. He repeats his previous advice: Bing should stop cooperating with Kaan's police investigation and let the undercover officer leave Boks. Bing decides to follow his advice, to the frustration of Kaan, who doesn't leave it at that. But Bing is resolute: he will only give Kaan access to Boks and the security images again if he has an order from the examining magistrate, entirely in accordance with the law.
©Screenshot RTL 4
Luuk thinks that Bing has come to his senses
Stefano's confrontation
Stefano discovers the practical aspects of his paralysis: he needs help with everything, even a simple trip from home to Elisa's physio practice in Boks. When wheelchair transport cancels, he goes on his own, but that turns out to be too far, so he still has to ask Merel to pick him up during her work.
©Screenshot RTL 4
Stefano cannot go anywhere without wheelchair transport
It frustrates him enormously, especially when Elisa arrives at the appointment more than 45 minutes later. She doesn't care about his anger: being in a wheelchair doesn't make him special and doesn't give him any extra rights. He soon squeaks a bit lower and realizes that it is quite okay to ask for help.
©Screenshot RTL 4
Elisa has no sympathy for Stefano
But he constantly asks Merel for help and that soon starts to break her down. Especially when she has to move heaven and earth on busy days because he unintentionally takes up her time for something as simple as a drink in town.
©Screenshot RTL 4
Stefano puts a lot of pressure on Merel
Merel can no longer cope with having to care for Stefano in addition to school, internship, work and a social life. She does not have time to finish things properly and that is why her internship report has also been rejected. She's completely through it.
©Screenshot RTL 4
Merel has reached her limits
Stefano manages to comfort her and offers to tackle the internship report linguistically while she has a nice meal with her parents.
©Screenshot RTL 4
Janine unintentionally listens in
It's exactly the distraction she needs and Merel really brightens up at home. She spontaneously decides to play pool with her father in Boks and passes this on to Stefano, who insists on coming too. Merel's discomfort becomes even more noticeable once he forgets his medication in Boks. She feels obliged to go home with him.
©Screenshot RTL 4
Merel sees her nice evening ruined
The next morning, Janine has a painfully honest conversation with Stefano. She fears that he is unintentionally claiming too much from Merel and that she is not good at setting boundaries because she still feels guilty about the accident. Stefano acts as if it is nonsense: Merel can go wherever she wants. But Janine will not be fooled… She would feel bad for Stefano if he also lost his girlfriend.
©Screenshot RTL 4
Janine gives good advice
Henk's deaf ears
Laura is still passionate about learning to play the piano. A bit too enthusiastic, because Henk drives crazy with her exercises, especially when she also sings quite out of tune. Steef gives him noise-dampening earplugs that he wears discreetly so as not to demotivate her.
©Screenshot RTL 4
Laura's musical talent takes a long time to emerge
But Laura is not stupid either: she soon notices that he has plugs in his ears when he shouts even her most false notes: "BEAUTIFUL!" to find. Laura's neighbors appear to be a lot less impressed, they complain about the noise pollution from her continuous piano playing. Laura thinks it helps if they agree on a schedule so that they know when she practices.
©Screenshot RTL 4
Laura would be better off buying earplugs for the entire neighborhood
Janine on a collision course
Janine discovers the reason why channel boss Martijn no longer allows her to broadcast about the manufacturer of leaking breast implants. It appears that the group has financial ties with the TV channel.
©Screenshot RTL 4
Janine discovers the truth
Due to this conflict of interest, Janine is forced to stop as a presenter immediately and shares this decision live on the broadcast, to the dismay of Martijn who later tries to save the day with nice promises.
©Screenshot RTL 4
Janine resigns live on TV
Janine stands her ground: his offer to make more programs for a significant salary increase leaves her cold. She only wants to continue if she can make that episode about breast implants. That turns out to be a deal breaker and her television career is over.
©Screenshot RTL 4
Janine appears not to be for sale
Saskia's confession
Julian tells Rik about the situation with Saskia and he decides to follow his neighbor's advice: take a spontaneous break to get closer to each other. He books a room in De Rozenboom and wants to make it romantic. Saskia allows herself to be seduced in an attempt to forget all her worries for a moment. Soon they are making out.
©Screenshot RTL 4
Julian and Saskia want to try again
But the sex is uncomfortable and afterwards Saskia even has to cry quietly. When Julian carefully asks what is going on, the big word comes out: she wants to become a doctor. But that does mean that she has six long years of medical school ahead of her, during which she can barely work. Julian doesn't say no, but it feels like he's still losing his wife.
©Screenshot RTL 4
Saskia wants to go in a completely different direction
Saskia does not make half efforts with her study plans and already has immediate appointments to arrange matters. As a result, she even misses the family dinner, to the surprise of Steef, who believes that his mother is having a midlife crisis. Julian lectures his son: she just wants to study, something he hasn't seen Steef do in a while. Steef fires back that his father could also look for a midlife hobby himself. When was the last time he did something nice for himself? Julian takes his son's advice to heart and goes to play pool in Boks.
©Screenshot RTL 4
Steef makes Julian think
He leaves a note for Saskia, who, when she comes home with great enthusiasm, decides to come to Boks as well. But before she enters the pool room she hears the crazy cheering of Julian and his friends. He plays together with Luuk against Linda and Janine. If the women lose they have to go to kickboxing, the men have to take a yoga lesson. To their own surprise, the gentlemen are defeated by the ladies.
©Screenshot RTL 4
Julian and Luuk are being captured
But Saskia no longer experiences all that. She turns back… This doesn't seem like her world anymore. Once home she cannot resist temptation, especially after a good glass of wine. She unblocks Dieter and soon the messages from the German doctor flood her phone again. She clearly enjoys his attention.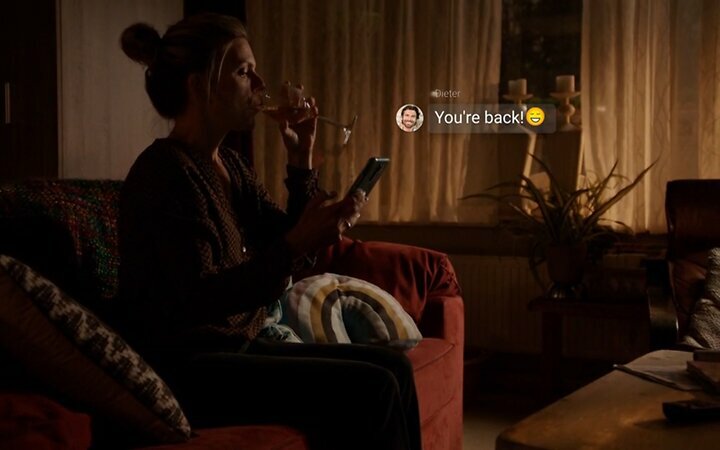 ©Screenshot RTL 4
Saskia cannot resist the temptation
Rik gives too generously
Rik is so worried about Mats that he decides to send the boy a text message with the location of the spare key so that he can always go inside to eat something or take a shower. Mats doesn't let that be said twice, he comes to the apartment with friends and it soon becomes a messy party with drinks and food. Rik is furious when he comes home and he snaps at Mats for being an ungrateful dog.
©Screenshot RTL 4
Mats abuses Rik's hospitality
Of course Mats walks away angry again, but he comes back later to apologize. He only wanted to bring one friend who could use a shower, but then things got out of hand. To show his goodwill, he shows that he had safely stored Jasmijn's photo. Rik is forgiving, but Mats decides to leave again, but not before he promises to just ring the doorbell politely next time.
©Screenshot RTL 4
Mats promises to get better
A promise is a promise
At the end of the week, Luuk and Julian report for their first yoga class. Linda is very embarrassed by the two men who, giggling and wearing sweatbands, take their place among the regular team. After a somewhat awkward start, the men manage to relax. Luuk even falls asleep during the breathing session.
©Screenshot RTL 4
Luuk and Julian try yoga
Bing decides to take a break from his work in Boks and comes over with a cup of tea to see how his friends are doing in yoga class. But there is no real relaxation: suddenly a police arrest team is standing in front of him. To his own complete surprise, he was immediately arrested on suspicion of drug trafficking.
©Screenshot RTL 4
Bing gets the surprise of his life
And further: Boks shows a lot of Paul Simon, no one seems to miss Nola and heck, Shanti is also in the series.
©Screenshot RTL 4
–