Erika Lust is a feminist and directs porn. 'My fantasies sometimes don't have the most feminist perspective'
--
"The porn industry is still dominated by men: male directors, with a male gaze. Yes, there are female directors too, but many of them still mainly reproduce what they have seen in mainstream porn. The structure of mainstream porn films is always the same: the woman seduces the man, her sexuality is focused on him, but it is not her story. It is a reproduction of stereotypes. With my films I want to contribute to a sex-positive culture, in which sex goes hand in hand with happiness, health, satisfaction and empowerment. I want to show what consent looks like. And above all, I want to show women who enjoy sex.
The first time I saw porn was at a friend's slumber party when we were about twelve. She had found a video tape of her father. We were all a little nervous. As we watched, that excitement turned to disappointment. It felt ugly. Literally not beautiful, but also disgusting. When I was a little older, I also saw films that I found sexy. Do you know L'Amant by Jean-Jacques Annaud? About a girl who meets her first love. That movie was controversial because the girl was quite young, but I remember the immense sense of erotic excitement it gave me. It's fascinating that a body can become aroused by watching other people have sex. That power.
In our family, sex was something shameful, something we didn't talk about. My mother had my older sister – she's a lot older than me – when she was nineteen. And my grandmother, my father's mother, got pregnant when she was eighteen. Getting pregnant too early was the big fear at home. But my own experiences with sex are very positive. I was lucky to have good sex education at school – Sweden was the first country to make sex education compulsory at school. A teenager needs to learn about the emotional side of sex, about the butterflies you can feel in your stomach. And also very important: that it does not only consist of penetration. You can take it easy, caress and kiss.
In the summer of 2000 I ended up in a small bar in Barcelona. There I saw a man with a red shirt, I was wearing a red dress. I went up to him and said, we're wearing the same color! That was Pablo. We've been together ever since. I was studying political science in Sweden at the time, but I lived in Spain because I wanted to learn the language. I always had in mind that I would work for an international organization, but during a job on a film set – I needed money – I discovered that I actually wanted to make films. Then I went to film school in Barcelona. In terms of subject matter, I was most interested in female sexuality. Slowly the idea grew that I wanted to make a porn film, from my perspective. Sometimes you just have to dare to do something. In 2004 I came up with The Good Girla short film – a nod to the porn cliché of the pizza delivery person who rings the doorbell and has sex with the woman who ordered the pizza.
I stood out as a female director. Why couldn't I just be an actress like other women?
I had to overcome significant barriers. I stood out as a female director. Why couldn't I just be an actress like other women? But I don't want to be in front of the camera at all. I may seem outgoing, but I'm not. I'm more of a voyeur than an exhibitionist. I have been called everything from a feminazi by chauvinistic men to a fake feminist by women who think porn should not exist. I really had to learn to deal with that criticism. I am a pleaser, I find it difficult when people are not satisfied. Becoming a mother helps to determine your boundaries, to understand that criticism is actually just an opinion. I wanted to be my children's friend, but of course that's not possible. Getting older also helps in setting boundaries, just like success.
I have always talked openly about sex with my children – they are thirteen and sixteen. They haven't seen my films, they are still minors. But they know what I do, and that there are different types of porn. Much of what young people know about sex today they learned from porn, mostly mainstream porn. They use it to shape and understand their own sexuality. What I make is entertainment, not education. But people learn from what they see, they become programmed by it. I feel that responsibility as a director.
My films have been shown at international film festivals, I have given TEDx Talks and a few years ago I was included in the BBC's list of most influential women. I also think it's fantastic that my films have been shown in cultural places like the Eye Film Museum in Amsterdam and the Phenomena in Barcelona, ​​so we also exist in the 'real' world, not just online. But this kind of thing doesn't go around in our family app. My sister is a fitness influencer, if she is in a magazine, my mother sends around photos. She still gets nervous when it comes to sex. If you live in different worlds and still want to stay in touch, you need to focus on what you do share. So we're talking about the kids.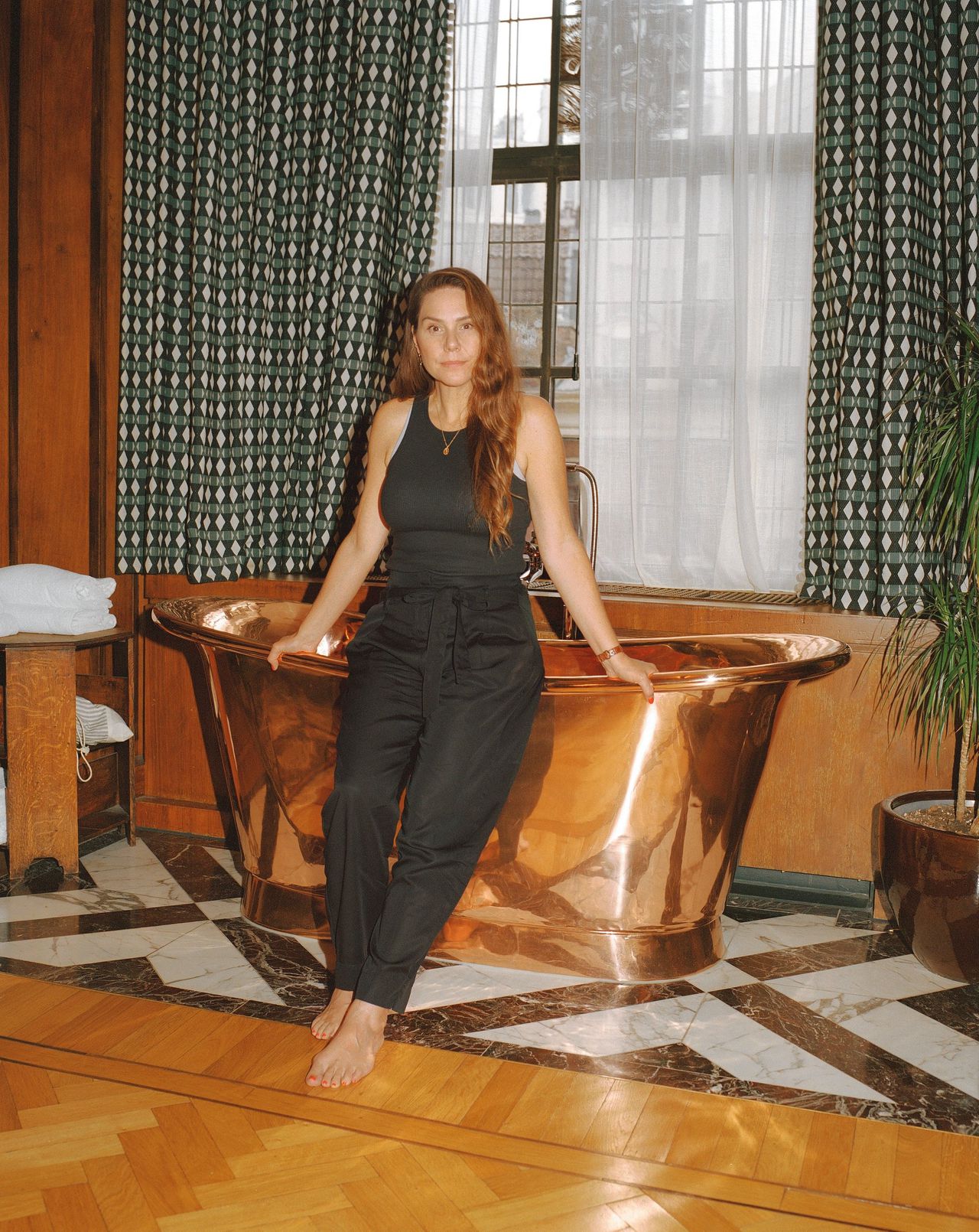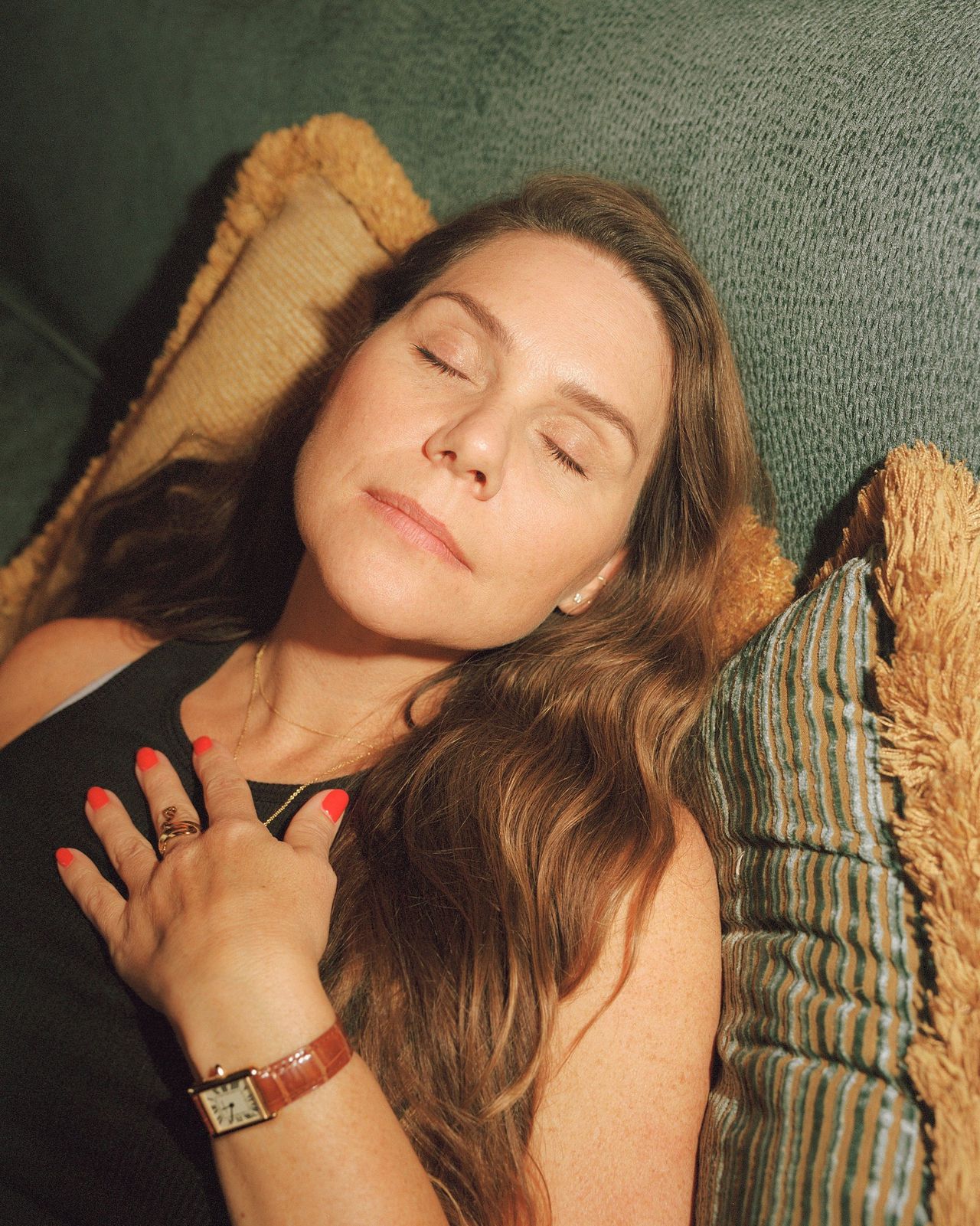 Photos: Photo Piet Oosterbeek
On my laptop I have a folder called 'inspiration', in which I put everything I find interesting. It could be a piece of furniture, a location, or a mood. Aesthetics excites me, helps me get into a certain world. It's not just about the beauty of the actors, it's a combination with the set, the location. Most porn is not aesthetic, but is shot with a very simple camera with the aim of showing penetration. I often can't even really see what people look like. I want to see their faces, their expressions, maybe certain muscles, or an arm or a back.
I am a feminist. I can analyze, deconstruct, criticize. But when I close my eyes and disappear into my imagination, sometimes storylines emerge that don't have the most feminist perspective. Can you be a feminist and submissive at the same time? Can you, as a woman, want to be in a gangbang? The answer to that is yes. I don't have to censor my impulses. I'm about to make a film about a gangbang, I want to explore whether that's possible from a feminist perspective.
Sometimes I'm in my head too much. Then I have to go outside. I'm still quite a Swedish woman. Put me in nature and I'm happy. Then I feel grounded. I love walking. I live near Barcelona on a hill, on the edge of a nature reserve. I walk my dogs there. Nature brings perspective. As humans, we have made ourselves the most important thing, but we are just visitors in this world.
I also watch porn for my own pleasure. The porn that a lot of people watch online makes me angry and uncomfortable, and in independent porn films I know most of the people in them, which feels weird. But I can sometimes enjoy older films like a normal consumer. It is important not to lose sight of your own sexuality. Self-satisfaction is very important. Even if you are in a relationship. It connects you with yourself. And to women I would say: don't be afraid to add a little vibrating element to your sex life with your partner. Men can be afraid of competition, but in this case it's the more the merrier."
Tags: Erika Lust feminist directs porn fantasies dont feminist perspective
-